The Argyle Streetscape Design Sessions
Monday, June 11th, 2012
As one of the most vibrant entertainment streets in the city, Argyle Street must be viewed as a model for how people-oriented places in the downtown are designed and developed. The Downtown Plan identifies the configuration of streets such as Argyle as vital to providing a high-quality public realm to create vibrant public places that define the downtown. Much work regarding design improvements and strategies for Argyle Street has occurred over the years. Our effort has built on previous work as well as the existing character of the street to create a plan with broad public and private support. This process advocates for permanent infrastructure improvements to support the strong cafe culture and active street life of Argyle Street - the heart of entertainment in Halifax.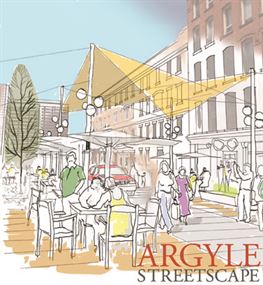 Argyle Street is one of Halifax's liveliest civic spaces. The street draws Haligonians and visitors alike day and night to shop, eat, get together, and enjoy its many cultural attractions. It is at the heart of Halifax's urban life, its playground and gathering space. Over the last fifteen years, plans have been brewing to redesign the street to make it an even more pedestrian-oriented. The Planning & Design Centre is working with Downtown Halifax Business Commission to engage the public in developing a revised streetscape plan and build momentum for implementing the plan for Argyle Street. This project presents an opportunity to set a new standard in the way Halifax designs its civic space.
To accomplish this goal, the Planning & Design Centre hosted a multi-stage community design workshop process to define the future of the street. Broad consensus was lent to a vision and set of guiding principles for the street, all centered around making Argyle Halifax's premier civic space. With these ideas, the Planning & Design Centre created a streetscape concept that enjoys the broad support of the many community members.
The essence of the updated streestcape plan is articulated in the following principles created during the first public design session:
1. To establish permanence. The patio space along Argyle street will no longer be temporary. Distinct zones will define the patio space throughout the entire year. These spaces will blend seemlessly with the overall design of the street and be comfortable in all seasons.   2. To prioritize pedestrians on a shared street. Argyle will become Halifax's first shared street, where vehicles are guests in a public space and pedestrians can move freely. Argyle will be a people place above all else.   3. To create many cycles of uses and activities. The street will be a place for a variety of activities both day and night and during all four seasons. A flexible design will support street festivals, and outdoor patio life in winter and summer alike, while strengthening the street's existing potential for entertainment.   4. To make the street a premiere destination. Argyle Street will become Halifax's premiere civic space for entertainment. Both as a standard feature in day to day life and as a must see for all visitors. Argyle will have a one of a kind character. Unlike anywhere else in the city, its vibrant cultural attractions will be accentuated by  unique and beautiful street design that makes Argyle Street the place to be.   5. Create a beautiful street. Brilliant lights and unique paving style and carefully designed amenities will make Argyle a street that glows and sparkles.  
For pictures of the proposed design features and workshops, and updates on next steps, please visit our Facebook page at www.facebook.com/ArgyleStreetscape