Argyle Streetscape Plan
Wednesday, October 31st, 2012
The quality of a city's streets is integral to the vitality and quality of life enjoyed by residents and visitors alike. Streets have both typical and unique functions and qualities. Each contributes to the basic structure and network of public space in a city. Some streets stand out; they warrant special public infrastructure investment as prominent destinations, hubs of activity, greenspace, economic magnets or key corridors of movement. Argyle has become one of those special streets that is ripe for enhancement as a unique city street that serves as a banner of downtown Halifax.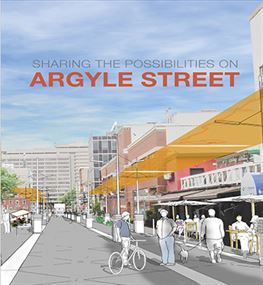 Download the Argyle Streetscape Plan 

PDF, [11.94MB]
Argyle Streetscape
Argyle Street is the heart of entertainment in Halifax and is positioned to become a showcase street in the city. The finalized Argyle Streetscape plan brings the design up to date with the input of the local businesses andthe community at large. The plan proposes Argyle Street as a gathering place that works night and day, summer and winter as a daily public space and destination for special celebration.
Why Argyle Street?
Argyle Street is largely the result of the vision, commitment and investment of local business. A lively year-round dining and nightlife destination with regular music and theatre shows makes Argyle Street the centrepiece of the downtown entertainment district.
Investing in Argyle as a people-focused destination and building on the vibrancy that local establishments have created will support and benefit a thriving downtown. Currently, pedestrian comfort competes with a commitment to vehicular preference in lighting and right-of-way use. The benefit of the tight-knit urban fabric of the street and Argyle's impact within the downtown is obscured by a lack of commitment to its potential as a truly great city street.
Argyle is already an important connection and destination within the downtown. The existing Memorial Public Library site orientation has cemented a pedestrian flow that links Spring Garden Road with Argyle Street. This pattern links the main downtown shopping district, the entertainment district, civic landmarks of City Hall and Grand Parade, and the concentration of offices in the north end of the downtown.
After many years of interest and discussion about enhancing Argyle Street, the time has come to recognize the critical contribution of this street and to invest in the public infrastructure to permanently support Argyle as a showcase street in the city.
Visit the project facebook page:
The Downtown Halifax Business Commission spearheaded this initiative: