Passion for Place: Lecture and Workshop with Dale Bracewell
Tuesday, April 12th, 2016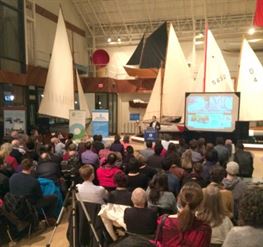 The Passion for Place public lecture and workshop was held on Wednesday February 10, 2021 at the Maritime Museum in Halifax. The lecture intended to continue public conversation about community and design, and to engage people interested in the city. Passion for Place was created through the partnership of Walk n' roll Halifax, Halifax Cycling Coalition, Planning & Design Centre, and PlanHRM.
The guest speaker for the evening was Dale Bracewell, Active Transportation Manager for the City of Vancouver. In his lecture, Dale discussed how the city of Vancouver envisioned, developed, and implemented their new active transportation network throughout the city. Dale also discussed some of the design principles used to develop the design of the new network including a focus on designing for all ages and abilities, known as the 8-80 principle. The idea being that if a place or space is designed to accommodate the mobility needs of people ages 8 years old and 80 years old, that the mobility needs of all ages in
between are considered. Dale noted that planners and engineers need to work together and shift priority away from streets for personal automobiles and put pedestrians at the forefront; listing pedestrians as a top priority followed by cyclists, public transit, and ending with private and service vehicles.
The main topic of the lecture was design and implementation of various types of bicycle lanes and their interaction with vehicle lanes and pedestrian sidewalks and crosswalks. Dale suggested that bicycle lanes can take a range of forms, from painted lanes in moderate traffic areas to physically separated bike lanes and paths in traffic-intensive areas.
Dale's advice for Halifax is to invest wisely, innovate, think about big picture, and make commutes a delightful experience, exclaiming that all projects whether big or small need to start somewhere and that attention to even the smallest details is very important to the success of any project.